What is Botox?
Botox is an injection containing botulinum toxin, a neurotoxin that blocks nerve impulses to facial muscles to relax them and reduce the signs of aging associated with smiling, squinting, and frowning. Botox injections help reduce:
Frown lines
Crow's feet
Forehead wrinkles
At The Medical Dock, Dr. Ahmad lets you know if you're a good candidate for Botox or another cosmetic injectable.
What are injectable fillers?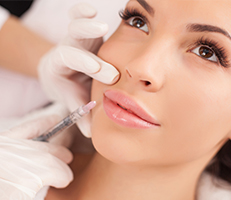 Injectable fillers reduce the appearance of fine lines and wrinkles, fill acne scars, and restore facial or lip volume. Fillers also rejuvenate skin and enhance volume on your hands. Examples of common cosmetic injectables include:
Injectables made of hyaluronic acid, such as Juvéderm® and Restylane® products
Calcium hydroxylapatite fillers like Radiesse®
Poly-L-lactic acid injectables, such as Sculptra® Aesthetic
Polymethylmethacrylate (PMMA) fillers like Bellafill®
Fat injections harvested from certain areas of your body
The length of time fillers last depends on which product you choose, but all injectables enhance collagen production and restore lost volume due to aging.
What should I expect during Botox and injectable fillers treatment?
Before Botox or dermal filler injections at The Medical Dock, Dr. Ahmad reviews your medical history and completes a skin examination to determine which cosmetic injectables best match your needs and preferences.
Right before the injections, he numbs the affected area with a topical numbing agent to make your experience as comfortable as possible. He strategically injects filler substances just beneath the skin, and the procedure lasts less than 30 minutes.
After Botox injections, you might notice results within several days. With dermal fillers, you'll experience results immediately. There's no downtime after Botox or dermal filler injections so you can resume everyday activities right away. You might experience temporary redness, mild bruising, or swelling, however.
How often will I require injections?
Dr. Ahmad and his team at The Medical Dock let you know how often you'll require injections to achieve the best aesthetic results possible. You may need Botox injections every 3-6 months and fillers every 6-18 months or longer, depending on your individual needs and the type of injection you choose.
When you're ready to look as young as you feel, schedule a free Botox and injectable fillers consultation at The Medical Dock by phone or online today.